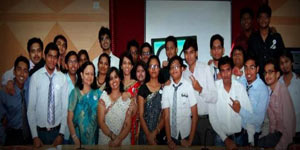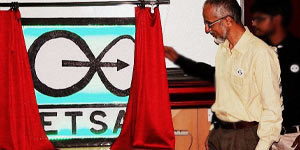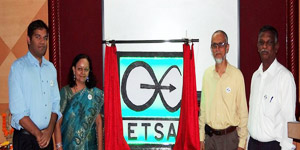 ETSA was initiated as a student arm of Electronics and Telecommunication Department in PIIT to make the students more competitive with the globe. ETSA was launched on 6th April 2013 by Honourable Dr.S.N.Merchant in presence of Dr.R.I.K.Moorthy and Dr.Priam Pillai Sir. The first committee of ETSA was formed in 2013-14. Currently the second committee is in place.
Logo
The symbol was designed, created and presented by students of EXTC. The Logo consists of 2 elements – An Alpha & an Arrow.


Alpha in technical terms symbolizes attenuation. So here Alpha aims to eliminate negativity and create a positive aura for efficient functioning of this group. The Arrow aims for leading our way towards success. The Alpha & Arrow together forms an epsilon which indicates permittivity i.e. the spirit of overcoming all resistances and obstacles. This design is enclosed in a square where each of the 4 sides of square represents the Four years of Engineering. The logo is made of 2 colors – Black & White; which generally signifies purity and impurity but other interpretation of these colors can be - white symbolize known factor and black symbolizes potentially attainable factor and this is goal of ETSA. ETSA intend to provide a platform to explore and express the inner talent.
Tagline
PIIT has been a temple of knowledge and innovation and hence the tagline "Where Knowledge Meets Innovation" seems apt.
Goals
The primary goal of ETSA is to enhance the budding engineers with technological guile and know-how, competitive, develop leadership qualities in individuals and develop some cohesive organizational skills. Under the master & expertise of our qualified professors it will augment student-teacher interaction on practical level so as to engage the application section of the brain.What it also provides is the immense opportunity for students to bring the best out of their co-curricular skills, thereby ensuring the student is as close to virtuous mastery as possible by B.E.Engineering.
Activities
ETSA has dedicated Magazine committee for 'PIIT Journal of Electronics and Telecommunication'. The magazine provides a platform for the student to express themselves technically and also showcase their skills and work.The fifth and the sixth magazine would be published soon.
ETSA has organized various other activities which have been beneficial to the students. This includes a Debate competition, a Quiz competition, Orientation program and Arduino Workshop. In near future it also plans to organize a Project Presentation competition and a Scilab Workshop. The Principal, The H.O.D and the entire faculty of EXTC has been instrumental in guiding students and this activities.
Our Address
Dr. K. M. Vasudevan Pillai's Campus
Plot No. 10, Sector 16,
New Panvel - 410 206
Maharashtra, India.
022- 2748 3207, 2745 6030
Follow us
ETSA-PIIT website is best viewed in Google Chrome and Mozilla Firefox.